If you are a CGEF Alumna, we would like to hear from you and want you to tell us your story. We like to stay in touch and share the wonderful experience of being a CGEF sponsored girl. If you were once sponsored by the CGEF, formerly Commonwealth Countries League Education Fund (CCLEF), you can also now join the CGEF Alumnae Association.
For more details and to join, please complete the Alumnae form and send it by e-mail to: This email address is being protected from spambots. You need JavaScript enabled to view it.,or by post.
Stay up to date with the latest news via our Facebook page Commonwealth Girls Education Fund Alumnae

Amity
Please click on the links below to view previous copies of Amity, the Alumnae Association's Newsletter.

Amity NOVEMBER 2016.pdf345.5 KB

Amity SEPTEMBER 2016.pdf344.97 KB

Amity APRIL 2015.pdf875.63 KB
The History of the Alumnae Association
Launched in Abuja, in November 2003, nine girls travelled from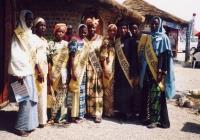 the north for nine hours by road to join CCL representatives at the Commonwealth Market organised at the time of the Commonwealth Heads of Government Meeting. Their spokeswoman, Maryam, was studying for a BSc in Agriculture, Maimuna was taking an accountancy course and Hauwa, now a mother, is a primary school teacher.
During a workshop the girls told how sponsorship by the CCLEF had changed their lives. It was important to them that the people from across the world had believed in their potential and chosen to give support. It had also given them the desire to share their knowledge with others in similar circumstances.
Maryam said: "I am hoping that someday I will use these privileges I had to assist people and make them appreciate the nature of education and the advantages of being educated. With the launching of the Alumnae I hope to link up with other girls who have enjoyed the sponsorship of CCL".
Each spoke of their appreciation for the chance they had been given and pledged to help their fellow CGEF, formerly CCL Education Fund (CCLEF), scholars and to exchange friendship and knowledge across the Commonwealth.