A celebration of 50 years educating girls with music and dance from around the Commonwealth.
Splendours of the Commonwealth 50th Anniversary Celebration takes place on Tuesday 10th April 2018 to dovetail with the Commonwealth Summit events taking place in London.

Taking place in the stunning Crystal Room, the evening includes a sparkling drinks reception with music from the Commonwealth Youth Orchestra, followed by a two course meal with soft drinks and wines before enjoying a dazzling show that will take you around the Commonwealth with music, songs and dance.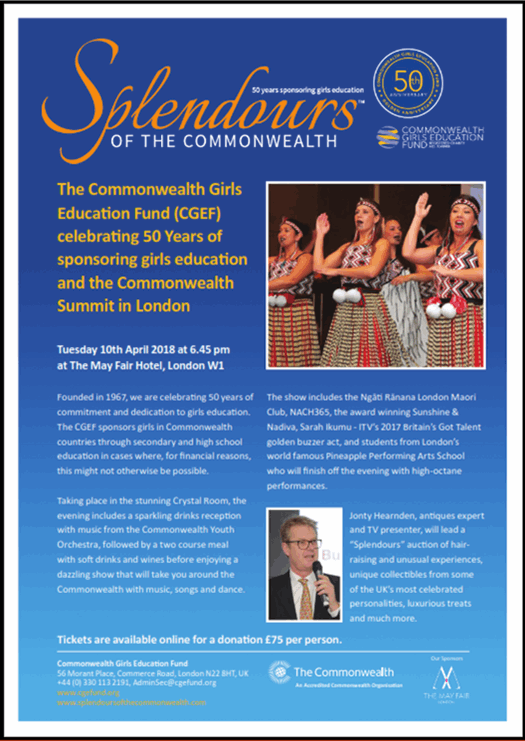 The show includes the Ngāti Rānana London Maori Club, NACH365, the award winning Sunshine & Nadiva, Sarah Ikumu - ITV's 2017 Britain's Got Talent golden buzzer act, and students from London's world famous Pineapple Performing Arts School who will finish off the evening with high-octane performances.
Jonty Hearnden, antiques expert and TV presenter, will lead a "Splendours" auction of hair-raising and unusual experiences, unique collectibles from some of the UK's most celebrated personalities, luxurious treats and much more.
Tickets are now sold out.
www.splendoursofthecommonwealth.com
We look forward to seeing you all at the May Fair hotel in April!