Following the success of last year's event, we are excited to announce that the 3rd Annual CGEF Valentine's Gala Dinner will be held on Friday 10th February 2017, in aid of the Commonwealth Girls Education Fund. Tickets are now available online. For enquiries, please contact Duchess Williams-Alonga by email This email address is being protected from spambots. You need JavaScript enabled to view it. or on 07585 356 808.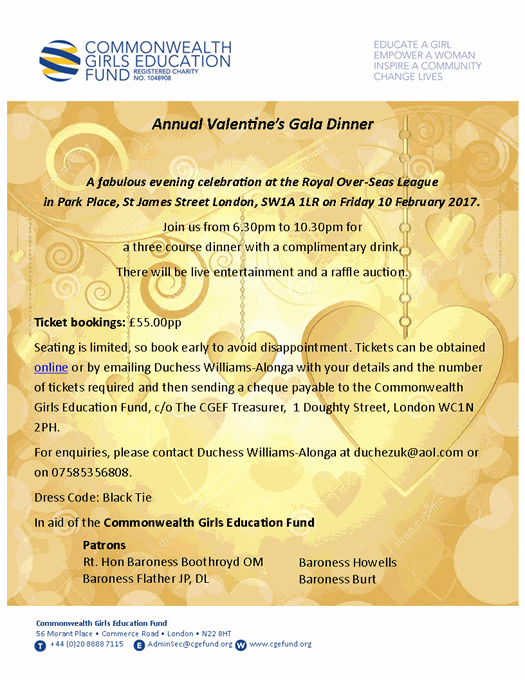 Last year, over fifty invited guests came along to take part in the 2nd Annual Valentine's Gala on 12th February 2016. Duchess Williams - Alonga of the Bahamas Host Association coordinated a fabulous evening in a fantastic setting at The Royal Over-Seas League, St. James's, London.

Guests were treated to a champagne reception, three course meal and an opportunity to win one of twelve exclusive raffle prizes. Click here for photos.

Among the invited guest were:
The High Commissioners from The Bahamas - HE Eldred Bethel and Mrs Bethel, HE Allison Booker
Tanzania - HE Peter Kallaghe and Mrs Joyce Kallaghe
Seychelles - HE Marie Pierre Lloyd
Executive members of CCL, CGEF and a team of International women in business.
The Voice UK 2016 contestant, Jeffri Ramli was among the featured artists along with Doga Osveren who captivated the audience with their amazing vocals. Dr Kalaria and her team of dancers treated guest to an amazing dance routine and interactive entertainment.
"My own party had a great time and enjoyed every moment - and we are already looking forward to next year's event!"
"Wonderful food, entertainment and affordable! Looking forward to Gala 2017."
"Thank you very much for inviting me to the dinner. I thoroughly enjoyed the entertainments and the company as well as the food and drinks."
A huge thank you to Duchess and her team for organsing another fabulous event for the CGEF. We were delighted to receive £1,120 from last year's Gala Dinner.